I recently had the chance to go down to Florida, stay with a former NASA Engineer, and watch Atlantis' final launch.  It was a great experience and if you want to see the shuttle launch, you currently have 2 more opportunities.  After that, the shuttle program appears to be done.  Thanks to the US government neglecting NASA's funding since the original development of the shuttle, NASA does not have a replacement for the now ancient shuttle, nor does NASA have the funds to continue the shuttle program as is.  NASA had been set to start a new program, but the recent economic problems have resulted in Congress cutting funding.  Don't get me wrong, we are still firing things off: they just tend to have warheads on them and they aren't exactly progressing humanity.  Personally I rather focus our limited resources to more productive and less destructive uses…  Just take a look at some of the technology humanity has developed from the space program
Even from 12 miles away in Titusville, watching the shuttle launch is impressive.  Considering the shuttle moves the same distance as my party drove (roughly 600 miles in 10 hours) in just under 5 minutes…  it makes the 30 year old shuttle that much more impressive.  It's jaw dropping: the fire, the sound, the crowd, the feeling of human accomplishment.  The shuttle represents what humanity should strive for.  It's not just a vehicle, it's the physical result of international co-operation formed around the simple idea that we should never stop learning and exploring.  I can't imagine seeing something like the Apollo 11 launch.
And speaking of the Apollo Program, the shuttle is weak/quiet compared to the Saturn V Rocket.  I learned that and so much more from my host.  The stories my ears have absorbed from a retired NASA Engineer… I don't think this trip is ever going to be forgotten.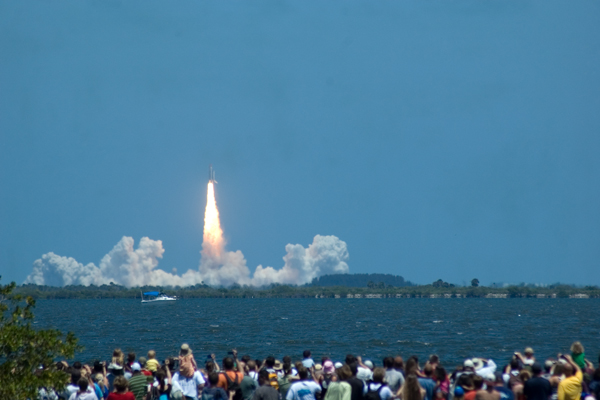 The day after, we decided to check out the Kennedy Space Center.  It's a great experience and I highly recommend it.